Electrician in Gallatin, TN 37066
Looking for an Electrician in Gallatin, Tennessee?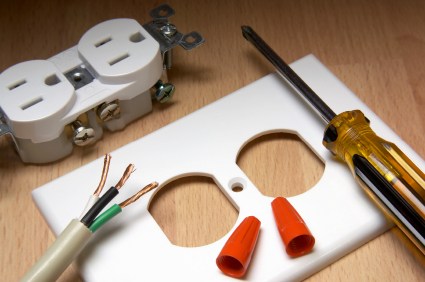 Whether you're doing renovations, upgrades or experiencing an electrical problem, it's important to find a licensed electrician in Gallatin, TN. Barnes Electric Service has been working in the region since 1995, servicing the electrical needs of Gallatin homeowners and businesses.
Our extensive list of satisfied Gallatin customers displays the experience and expertise of our staff. At Barnes Electric Service, a certified Gallatin electrician is ready to troubleshoot your electrical issues, answer design and repair questions, and offer advice on codes and electrical upgrades. Trust the experience and track record of Barnes Electric Service electricians for all of your electrical needs.
Many people assume that hiring a professional Gallatin electrician is an expensive venture. Although the knowledge and expertise of a licensed pro is undoubtedly valuable, Barnes Electric Service offers that know-how for a reasonable cost. Gallatin residents can have all of their electrical needs taken care of quickly and efficiently without blowing the budget – all they need to do is call Barnes Electric Service at (615) 559-0181.
The range of projects that Barnes Electric Service has managed across Gallatin covers everything from small electrical repairs to major wiring installation jobs. No matter how large-scale or small-scale the project, Barnes Electric Service staff work hard on the details to provide a neat, tidy and safe finish. Do you want to hire a reputable electrician in Gallatin, TN? Barnes Electric Service's attention to detail and careful work ethic drives them head and shoulders above other Gallatin electrical contractors.
Trust the years of experience and attention to detail that Barnes Electric Service delivers. To hire an affordable, licensed Gallatin electrician for your electrical projects, call Barnes Electric Service at (615) 559-0181 and arrange for an estimate. We love electrifying people's lives!
WHAT CUSTOMERS ARE SAYING:
"James was very easy to work with.Showed up when he said he would and went right to work figuring out my problem.Give me a price and explained what needed to be done.When i asked when he could do the work even though it was late he went right to work on it.I will use him again."
J. G., Rewiring in Gallatin, TN
---
5★★★★★ - "Barnes is the best experience in solving electrical problems. Their rating is a 10 because of their knowledge, professionalism, fee structure and fast service. I highly recommend them."
Jim Chase
2017-12-11
---
"So glad to have found James Barnes, he is the absolute best! We've been using James for over 3 years as our electrician. He has performed many types of regular sized jobs for us such as installing electrical outlets, bathroom fans, recessed lighting, etc. He has also performed huge jobs for us such as moving our fuse box to a better location and converting it into a safe breaker box with a surge protector. James is honest, experienced, and always has our safety in mind. When we call James for estimates, he always comes out on the same day and gets started on the work either on the same day or the very next morning. We won't use any other electrician."
Becky in Lebanon TN
---
"Fast friendly professional. Would not hesitate to use again if needing an electrician."
Joy in Nashville TN
---
"Excellent work and service. I would highly recommend Barnes Electrical to anyone needing home electrical work done."
P. C., Electrical Outlet Installation in Smyrna, TN
---
"I was very satisfied with James. He did a great job, was very professional, and was reasonably priced."
Mike B., New Circuit Break Box and Fire Alarm Installation
---
"Good work and hopefully a long term relationship."
A. S., Review Electrical in Panel Brentwood, TN
---
"I've never had such a high level of professionalism from a contractor before as we did with James Barnes and his associate. I would and have already recommended him to others."
R. A., Plug Installation in Pleasant View, TN
---
5 ★★★★★ - "All the reviews are true, great, fast service! Very pleased! Reviewed GFI panel, and circuit board in a hot tub, finding bad circuit board in tub. Found problem in minutes, two days before, service rep. for spa store couldn't find the problem after an hour!"
Jason Ausbrooks in White House, TN
---
5 ★★★★★ - "Reliable, dependable and reasonably priced. !! Great work!!"
Consumer in Ashland City, TN
---
"We Should've called Barnes First! We had a few light switches that were not working as a result of a bathroom remodel we'd done ourselves. We called one company who trouble shot for an hour and couldn't fix it, then gave us the run around about coming back. On the second day we called Barnes. They called before they came, they showed up earlier than they promised on a Saturday, wore booties inside our home and found the problem in less than 5 minutes! They also checked for problems we weren't even aware we might have, and changed outside floodlights for us. They already had the bulbs we needed in their van. Very Friendly, Very Prompt, Very knowledgeable. I would recommend them for any electrical repairs!"
Michael in Henderson TN
---
"Great referral. Had 4 calls with follow up calls and had my problem fixed."
J. N., Socker Repair in Brentwood, TN
---
"Mr. Barnes actually listened to me as I explained the situation, didn't talk down to me in his response & then provided me a written quote before starting the job. Additionally, he was in uniform with shoe covers when he entered my home. This is VERY different from any other electrician I have ever hired. I strongly recommend Barnes Electric."
V., Rewiring in Hendersonville, TN
---
"James Barnes and his crew were polite and professional. Within 15 minutes of assessing the electrical system in my home James told me how much he would charge for the job. I agreed and they completed the job within 30 minutes. I appreciate that I paid by the job, not the hour. And they did not try to convince me I needed more work done. I would definitely call Barnes Electric again and recommend them to friends and family."
P. W., Wiring in Nashville, TN
---
Call for FREE Electrician Quote
---
Electrician available in the following Gallatin, TN zip codes: